Cowper's Cut 254: 'Health Week III: This Time, It's Personnel'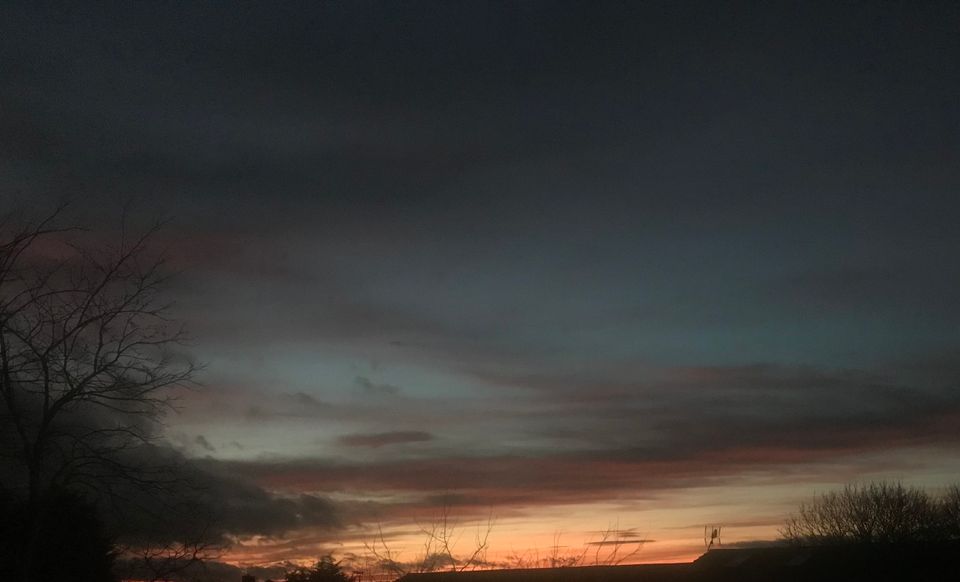 Rod Stewart rarely makes it into 'Cowper's Cut', more's the pity.
But lifelong Tory and Faces vocalist Rod The Mod's contribution to the NHS discourse this week was arresting: he told Sky News' NHS shindig (Sky News having joined the cavalcade of NHS crisis year-long commissions) that the state of the NHS was "heart-breaking".
The 'Maggie May' singer said it was time to "change the bloody government", and that "the NHS needs to be rebuilt with billions and billions". He also told the programme that the striking nurses are "not asking for much ... poor nurses, I'm on your side".
Discussing the reasons nurses were on strike, Sir Rod said: "I've personally been a Tory for a long time and I think this government should stand down now and give the Labour party a go."
This is Not Usual. Clearly I don't know whether The Rodinator regularly has political epiphanies, if not full-blown Damascene Conversions.
Nor is this necessarily likely to be the moment that turns the public or political discourse: Rod being the Harry Styles of the 1970s (ish).
But it's a fascinating index of where the Conservative And Unionist Party has landed with its long-time adherents, as January 2023 melts into February 2023.
NHS the leading Issue
The January 2023 Ipsos Issues Index data that I mentioned last week has been released. It is worth reading the full report, but the slide pack alone is pretty remarkable.
As the Institute For Government's sober, well-evidenced new report 'The NHS Crisis: Does The Sunak Government Have A Plan?' demonstrates, the absence of any meaningful plan to improve NHS performance has moved well out of specialist commentator discourse and into the full glare of public and political attention.
So there'll be some sort of plan along shortly, right?
Mmmmmmmmmmm. Don't hold your breath. The past week started with good news bring re-announced, which is always fun. The £150 million investment in mental health crisis services is of course welcome.
Even more welcome would be some detail of where the experienced, trained and surplus mental health staff required to make these developments or expansions reduce demand pressure on emergency services and really improve crisis mental health care.
Here comes 'Health Week III: This Time, It's Personnel'
The week ended with briefed Sunday news stories on BBC News and the Boris Johnson Fanzine about the Government's plans for a new Health Week.
We all remember the absolute triumphs that were the previous two Health Weeks, in November 2021 and once again last July.
The stars of 'Health Week III: This Time, It's Personnel' will be ... more virtual wards, and more community services.
No, you're not wrong: these policies have indeed both been announced many times before.
And no, there are no details of how the expended community and virtual services will be staffed - and you'll particularly want your most experienced staff overseeing your virtual wards for obvious safety reasons. And anecdotal data is showing quite strongly that those are the very people storming the doors marked 'early retirement'.
Oh, and there will be (eventually) 800 more ambulances. Because of course the root problem in A&E is a lack of vehicles.
Have the progress and outcomes with virtual wards and expanded community services so far been evaluated? It isn't obvious. There are anecdotes in the BJF story about a Warwickshire scheme sending paramedics to patients' homes, which led to a 16 per cent reduction in the number of over-75s taken to hospital by ambulance; and of a London project sending a community nurse out with paramedics, claiming they reduced the number of patients taken to A&E from 70 per cent to 35 per cent.
The BBC News report states that "it is hoped the plan to be set out on Monday will help free up capacity in hospitals, but the measures are not designed to be in place until next winter and won't address immediate challenges".
The Government's lack of a meaningful plan means that we're stuck with their Humpty-Dumpty/Micawber hybrid approach. And that has been such a triumph so far.
Commons Health Questions
This took place on Tuesday, and was not wildly enlightening.
Health But Social Care Secretary Steve 'The Banker' Barclay is using more or less the only tactic available to him in response to questions about the NHS's crisis-hit and dire performance, which is to constantly parrot the 'extra inputs' of resources and staff. Oh, and he announced a 'major conditions' strategy'.
Labour needs to find itself some more effective ways of attacking the plan-free nature of the DHBSC's leadership. They need to pick something that won't be improving any time soon (so GP and A&E access would be safe bets), and then pick on it: step up the FOIs or get some quality leaks; and then find catchy lines and ways to punch the bruise hard and often.
Wes Streeting's attempts to pretend that the Government plans to increase user charges (based on The Saj's Times Commission nonsense last week, and misrepresenting Sunak's comments about charging for missed GP appointments in the leadership race) did not bear fruit.
More deaths
The latest ONS mortality data is quite striking. Actuary Stuart Mcdonald observes that "2,837 more deaths were recorded in-week compared to the 5-year average. That's 20% more - another significant excess. Year-to-date there have been 32,364 deaths recorded, 17% more than the 5-year average". He adds that "the best way to compare deaths during the pandemic to prior years is to use age-standardised death rates.
"The CMI Mortality Monitor takes this approach ... Excess is 31%, which shows how much higher death rates are so far in 2023, compared to 2019 (the last pre-pandemic year).
"8,500 excess deaths already in 2023, closely tracking death rates in the first two weeks of 2021."
The Health Select Committee took evidence this week on excess deaths and A&E pressures. Although NHS England's director of [coughs] strategy Chris Hopson appeared to re-try casting his shade on the 500 deaths a week figure, Royal College of Emergency Medicine Presid ent Dr Adrian Boyle was the first witness, and set the scene with aplomb.
It's worth reading the whole transcript, but one passage of Dr Boyle's is particularly cogent: "we certainly had the worst December that we have ever had. If you look at performance figures, on every metric, what went on in December was terrible ... We have serious structural problems that impair our ability to deliver urgent and emergency care.
"We have the second lowest number of beds in the OECD comparators. We run our hospitals far too full, with very high occupancy levels ... Things have been going wrong for quite a long time, and they came to a head in December."
"Even if 40 new hospitals were 40 new hospitals"
HSC chair and former health minister Streve Brine's follow-up is just as revealing: "even if 40 new hospitals were 40 new hospitals, we would struggle to staff them".
"Even if 40 new hospitals were 40 new hospitals".
From a Conservative MP, former minister and health select committee chair. That's quite a moment.
Longstanding 'Cut' readers know that I have been banging on and on and on and on and on about this since the publication of this implausible pledge in the Conservative And Unionist Party's 2019 General Election manifesto.
Another answer of Dr Boyle's, on workforce, is worth quoting: "I see that a lot of nurses, particularly the experienced nurses, who are almost like the NCOs of the health service—the sergeants, who know how to get things done—are leaving in droves ...
"We are haemorrhaging experienced emergency nurses because they find it very frustrating. The problem is not that there is too much work but that they are unable to do the work that they are trained to do. They find it immensely frustrating to be providing this level of in-patient care. They feel overwhelmed and that their registration is at risk because it feels so dangerous".
Bollocking the SOS in public
There was another highly unusual event this week. No, don't worry: nobody hit any of the national access targets. Long-serving NHS chief executive Mike Deegan went public in a letter to SOS Steve 'The Banker' Barclay with his frustration about the appallingly slow pace of capital allocation for redevelopment for his North Manchester General Hospital Trust. (It's going to be a 'new hospital', you know.)
One of the eight New Hospitals Programme "pathfinders" announced in 2019, the trust has seen no action on delivering the Euros required to progress the rebuild. The letter states that "the cost of the lack of progress within the NHP is now running at £13.3 million per month since January 2021.
"An inflation review in November 2022 showed that the preferred way forward as scoped within the outline business case has now increased in cost by 30 per cent to £976 million."
Deegan's co-signator, Manchester City Council's Bev Craig's leaking the letter to Health Service Journal in this way is reasonably unprecedented in my 24 years of writing about health policy and politics.
This is simply not done by an NHS chief executive to a Health Secretary: not in public. The usual barriers to doing this are respect and fear. It would seem that The Banker has merited neither from one of the NHS's most experienced leaders.
Tax-shy Nadhim gets the bullet
To the considerable surprise of absolutely nobody who's been paying attention, Conservative And Unionist Party chair (and former chancellor) Nadhim Zahawi's tax evasion over his YouGov shareholding saw him dismissed by bonsai Prime Minister Rishi 'The Brand' Sunak after an inquiry.
There is a particularly amusing passage in the sacking letter, where our small-but-perfectly-formed premier told his sackee Zahawi that he should be very proud of his role in the Covid19 vaccinations success: "your successful oversight of the Covid 19 vaccine procurement and deployment programme which ensured the United Kingdom was at the forefront of the global response to the coronavirus pandemic"
One must have a heart of stone not to laugh at such gibberish. The main credit for the vaccines procurement should go to Dame Kate Bingham: the roll-out was handled by NHS England's oversight; the Army's logistical support; and the delivery of primary care teams and volunteers nationwide.
And as we all remember, Steve Barclay refused to be 'The Banker' to approve Treasury funding for the vaccines rollout: NHS England's then-boss Simon Stevens simply went ahead regardless.
The Dame is back
Vaccines taskforce megastar Dame Kate Bingham wrote a stinging FT opinion piece (in less salty language) re-upping her "bollocks" comment on the life sciences superpower ambition stated by disgraced former PM and alleged Shakespeare biographer Boris Johnson.
Bingham writes that "the NHS has a unique ability to recruit thousands of diverse patients for clinical trials. But this exciting future is being put at risk by the present. The UK is ideally placed to become a global leader of a new age in precision medicine, but the need to address current pressures of cost of living, debt and soaring inflation is crowding out the long-term measures required to support innovation".
She complains specifically about the recent decisions to cut R&D tax credits, and more widely about UK academics' loss of access to the EU Horizon due to Brexit.
Bingham signs off the piece with a call for "real expertise, genuine partnership and a remorseless focus on the long term": perhaps she doesn't read the news much.
Minister Markham's undeclared interest
The Guardian's Rowena Mason spotted that health minister Lord Markham has a substantial 30% shareholding in private medical firm Cignpost Diagnostics (part of Cignpost Investments), which is not declared on his DHBSC biog.
She reports that Markham is understood to be divesting his shareholding, and resigned as a director when appointed minister in September 2022. The Times reports that "Cignpost Diagnostics made a pre-tax profit of £15 million on revenue of £49 million in the year to March 2021, its first nine months of operation".
Bridgen over. Troubled waters!
Practising imbecile, longstanding member of the buffoon community and Member of Parliament Andrew Bridgen (previously of the Conservative And Unionist Party's parish) is maintaining his strong run of recent form.
The Bridgster has instructed his lawyers to issue his fellow independent ex-Tory MP The People's Partridge, Matt 'Alan' Hancock, with a Letter Before Action
The seriousness of his claim can be judged from the strapline of his lawyers, 'The Bad Law project', no less: "No Statsi. No Cheka. No Gestapo." The Bad Law Project is affiliated to nepo-baby, oaf and former actor Laurence Fox, which tells us just about all we need to know.
Alan is likely to be on safe legal ground facing this lot. (And he can always use some of the £320,000 he got from 'I'm A Celebrity: Get Me Out Of Here!': he's only given 3% (£10,000) to charity.)
Nothing exceeds like PPExcess

The Report of the Comptroller and Auditor General to the House of Commons on DHSC's Annual Report and Accounts for 2021/22 (page 261) states, "in addition to the £8.9 billion impairment in respect of the PPE and other inventory the Department reported in its 2020-21 accounts, the Department estimates that there has been a further £6 billion impairment in 2021-22.
"This is made up of:
£2.5 billion write-down of items procured in 2021-22, as set out in paragraph 2, the majority of which relates to items the Department no longer expects to use. The remainder of the write-down is due to falling market prices; and
£3.5 billion for onerous costs relating to PPE, vaccines and medicines for items it had agreed to purchase before 31 March 2022, but which it now does not expect to use.
Labour's Wes Streeting is, understandably, trying to make political mischief with this. While there may be some reasonable arguments that how much PPE would be needed was fairly un-knowable (a vacine-escaping Covid19 variant could have dumped us back in the dirt), the multi-billion-pound scale of this waste is (as the National Audit Office and Public Accounts Committee say) concerning.
NAO Comptroller General Gareth Davies qualified his opinion "because of insufficient audit evidence to support £1.36bn of consumables inventory. He has also qualified his opinion because he was unable to obtain sufficient evidence to support transactions and balances related to the UK Health and Security Agency (UKHSA) in the Departmental Group Accounts.
"He has issued a "disclaimer of opinion" on UKHSA's own accounts. He has qualified his regularity opinion because a £2.457bn prior period adjustment was made without obtaining parliamentary approval which resulted in a breach of one of DHSC's parliamentary control totals".
The situation was an avoidable governance nightmare: "the NAO found that there was a lack of adequate governance, oversight and control at UKHSA. Throughout 2021-22, there was no Board or Audit and Risk Assurance Committee in place, meaning that UKHSA did not comply with HM Treasury and Cabinet Office guidance on governance arrangements.
"Non-executive directors were not appointed until 28 April 2022, seven months after UKHSA became operational, and the Advisory Board and Audit and Risk Committee did not meet formally until June and July 2022 respectively. This lack of formal governance arrangements exposed UKHSA to a high level of risk, with no clear oversight structure in place for its first six months of operation.
"DHSC did not sufficiently support or oversee UKHSA to resolve issues it inherited from its predecessors and establish its administrative functions. UKHSA was unable to provide the NAO with sufficient evidence to support balances relating to £794 million of stock, and £1.5 billion of accruals from NHS Test and Trace, which were transferred from DHSC, or to support £254 million of stockpiled goods transferred from its predecessor organisation, Public Health England."
Impressively, it gets worse: "... during UKHSA's first six months, for example, UKHSA did not carry out effective bank reconciliations. Shortcomings in the introduction of a new accounting system, combined with a reliance on temporary staff, meant that UKHSA was not able to provide the NAO with evidence to support key balances and transactions in the accounts.
"For the DHSC's group accounts, the C&AG was unable to obtain the evidence needed to support £1.36bn of stock, due to issues related to inventory management. DHSC did not complete an effective programme of year-end stock counts to verify the quantity and quality of items including PPE and lateral flow tests, as it was unable to access 5 billion items (which cost £2.9bn) that were stored in containers, and did not have adequate processes in place for accessible stock held in warehouses."
The DHSC annual report shows that it expects to spend £319 million storing and disposing of PPE which is no longer needed and is of such poor quality that it is no use to frontline staff anyway.
Cronyvirus and coronamillions update
PCR testing errors over Covid19 samples at the Immensa Laboratory in Wolverhampton were the subject of written warnings to 'NHS' Test And Trace from Public Health Wales, The Times reports.

TAT officials told Public Health Wales that "all labs within the national network are validated through a rigorous Covid-19 test programme quality assurance and validation process".
This was not true. It emerged in October 2021 that Immensa was not UKAS-accredited, despite UK Health Security Agency boss Dame Jenny Harries claims that it was, and in December 2021 that there had been a month of delays prior to the laboratory's incorrect testing being halted.
UKHSA's report into the incident, released in November 2022, suggested that these testing failures may have led to 23 deaths.
The Good Law Project's latest publicity is for VIP fast-lane contracts helped by the ex-Conservative MP Brooks Newmark. Zoe Ley (hitherto a dog food vendor) incorporated a new company called 'Life Partners Ltd' at the start of the pandemic to broker PPE supplies. Documents published on Companies House reveal that Ley's company made £17.6 million net profit in its first year of trading.
The GLP previously revealed that Worldlink Resources won their mammoth PPE contracts after being referred onto the VIP lane by former Cabinet Minister, Lord Agnew. The firm was awarded a £178 million deal to supply goggles awarded in June 2020 and another £80 million contract, awarded in May 2020 to supply surgical gowns
Furthermore, documents obtained by Good Law Project reveal major questions about the PPE's usefulness. Tens of millions of the goggles procured under this deal could end up going to waste.
Zoe Ley partnered with former Conservative MP Brooks Newmark to lobby Matt Hancock and other ministers on behalf of Worldlink resources. Capital and reserves at 'Brooks Newmark & Co', the ex-MP's  consultancy business (which was dormant in the four years before the pandemic) have jumped from minus £2,318 up to £2.3m in 2021.
Newmark emailed Matt Hancock in May 2020 urging him to "support" and "help" make the controversial deal happen. Hancock and his special advisors promptly pushed the deal along and Worldlink Resources subsequently found themselves in the VIP lane – becoming one of the biggest winners of PPE contracts.
Recommended and required reading
Former PM Gordon Brown's Guardian riposte to The Saj's user charges witterings is an effective example of old-school political monstering.
Grim Economist piece on the state of the NHS by GP Gavin Francis.
The future of clinical research in the NHS is under threat, the House Of Lords Science And Technology Select Committee warns SOS Barclay.
"The rates of growth in prices, especially for oncology drugs, have been quite remarkable. Steep in a very short period of time": FT longish read on drug price rises.
Well-researched Sky News data quiz on the NHS.
Social care policy is in a bad enough state to require divine intervention: fortunately, the Church of England's Commission On Re-Imagining Care produced an interesting report.
Optimism-inducing report of new research into albicidin, a plant toxin that may help scientists to develop antibiotics that do not induce resistance.
The Daily Mail's survey of GP practices uses the wholly neutral and objective framing of 'How Bad Is YOUR Local GP?'