Cowper's Cut 227: Dimocracy in action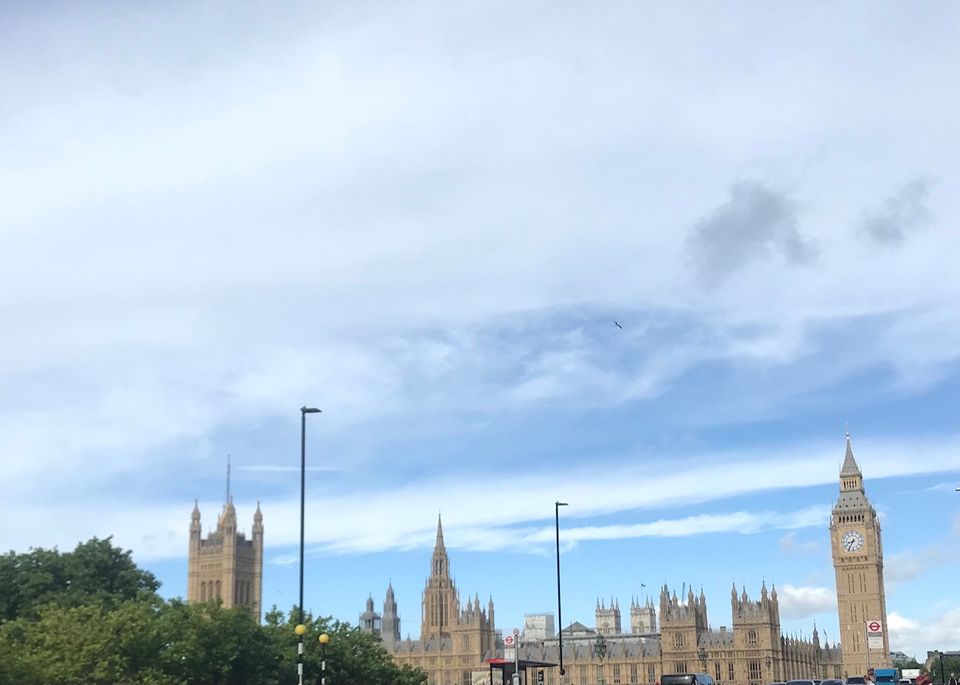 The intellectual firepower on display in the end-stage of the Conservative And Unionist Party's leadership contest is, to borrow Jeremy Taylor's excellent line, a fine example of dimocracy in action.
This joust has thrown up the predictable last two candidates of Rishi Sunak and Liz Truss, between whom the membership will pick a new leader: the person who also becomes the new Prime Minister.
You have to wonder whether Conservative Central Office reflects on why the longlist of candidates couldn't even mask their manifest mutual contempt when they were on national television?
Like the current NHS and care crisis, The Boris Johnson Effect has been a long time coming, and it'll be a long time going. Matthew D'Ancona's Tortoise piece on where the Conservative And Unionist Party's aspiring leaders are currently at is quite excellent.
Policy plans: would you prefer the ridiculous, or the mendacious?
The candidates have finally started to Say Things About The NHS.
This has gone just as well as you might expect.
The height-challenged ex-Chancellor frames the NHS as being in a 'crisis/national emergency' situation, so we did get one bit of correct headline analysis.
It goes downhill thereafter: The Times reported that "Sunak is promising an emergency package to force down NHS waiting lists through tougher targets led by a 'backlogs task force'."
This proposed solution is based on utterly un-serious analysis of the problem. It is a sign of daunting ignorance of both reality and public policy for a senior politician to propose that the NHS backlog resulted from insufficient tough targets and the absence of a backlogs task force - and thus, that these things will fix it.
These things will do nothing about the four main root causes of the backlog:
1. Lack of staff. The NHS has had 100,000 FTE vacancies for many years now: the last data I saw was 105,000.
2. Lack of capacity. Hospitals are full for various reasons, but a huge part is the inability to discharge medically fit patients due to the collapse of social care. Infection control protocols for high ongoing levels of Covid19 are also a hindrance, as are physical capacity problems. (The NHS estates maintenance backlog is c £9 billion.)
3. An exhausted and burnt-out workforce because of the pandemic - and with Covid19 still very much with us (and the associated acute increased demand/reduced capacity constraints).
4. Pensions taper tax and annual allowance rules actively disincentivise senior medics from taking on extra waiting list sessions in evenings/weekends.
It is embarrassing and pathetic that a candidate to be the next leader of a major party and PM would not know this.
In Mr Sunak's accompanying video (which comes across stylistically as a CBeebies presenter audition), he bids that "Covid … created a huge backlog … in our hearts, we all know that the aftershock of Covid is the main factor causing this problem".
This is not true.
In January 2020, before Covid19 hit, the NHS backlog was 4.4 million: today it is 6.6 million. It has risen by 100,000 a month since January 2020, but two-thirds of the NHS backlog pre-existed the pandemic.
(With this "in our hearts" line, Mr Sunak has surely become the Princess Di Candidate.)
Mr Sunak also pretends that "I found the resources to pay for the vaccine rollout".
This is also not true.
As Isabel Hardman pointed out in The Spectator, Mr Sunak's then-Treasury colleague and supporter Steve Barclay actually blocked the initial funding of the national vaccination programme, and NHS England CE Simon Stevens went ahead anyway without that authorisation.
Oh, and speaking of Sunak-backing Mr Barclay, the Sunday Times reveals that "in the Department for Health, Steve Barclay, now secretary of state, is in "bunker mode" and spends a lot of time camped inside his office. Barclay is trying to recruit a special adviser on a short-term contract of several weeks, in anticipation of being shuffled elsewhere when the new prime minister is announced". One must have a heart of stone not to laugh.
Apart from those obvious untruths, and the nonsense analysis of the real underlying problems, I'd say Rishi 'The Brand' Sunak's NHS Super Saturday went really well.
Over to Camp Surgical: the Sunday Times reports that Liz Truss is "expected to restate the existing commitment to building 40 hospitals and the expansion of GP services, although she would stop short of announcing long-term reform of the NHS until she has got her feet under the desk".
Ms Truss's NHS strategy, which is to repeat demonstrable lies, might be termed Continuity Johnsonism.
Can Mrs Truss now come up with madder shit about the NHS than Rishi Sunak has? He's set the bar really high. Perhaps La Truss is going to offer a free emotional support aardvark for every NHS patient waiting over 18 weeks?
The PM keeps on lying
In his own debate of confidence in his own administration, the outgoing Prime Minister managed to further embarrass the Commons, the Conservative And Unionist Party and himself by insisting that his 2019 manifesto's '40 new hospitals' fictional pledge would magically materialise here, in the real world.
Wild. As absolutely everybody who's been paying the slightest bit of attention knows, there are not going to be 40 new hospitals by 2030, nor anything remotely like that.
The PM devalued his office further, by talking "deep state" nonsense about fantasy conspiracies to rejoin the EU when opening his motion: "The Leader of the Opposition and the deep state will prevail in their plot to haul us back into alignment with the EU as a prelude to our eventual return".
Ahem. Labour's leader has repeatedly ruled out rejoining the EU.
At PMQs, the Big Dog's final walkies before being re-homed was scarcely more edifying. Having called Labour leader Keir Starmer's attack "satirical", the PM desperately bid that "what really matters to people in this country is getting their appointments, getting their operations".
Ahem. The NHS waiting list rose to 6.6 million this past week, having been 4.4 million before the pandemic.
The PM also issued a frankly laughable written statement on his Government's achievements, including the claims that "our NHS is on a surer footing. We have more doctors and around 30,000 more nurses than in March 2019, well over halfway to meeting our commitment of 50,000 more nurses by 2024. We have recruited another 18,000 primary care staff, such as physiotherapists and pharmacists, putting us on track to reach 26,000 by 2024.
"We have launched the biggest catchup programme in the NHS's history to tackle the legacy of the pandemic, aiming to deliver around 30 per cent more elective activity by 2024-25 than before the pandemic hit, underpinned by a £39 billion investment.
"We have opened almost 100 Community Diagnostic Centres, helping millions of patients to access earlier diagnostic tests closer to home. We have begun the biggest hospital-building programme for a generation. We have published England's first women's health strategy to improve the health and well-being of women and girls, and widened access to life saving drugs.
"Our broken social care system is finally being fixed. We have ended the cruel lottery of social care costs with a plan that means no one will pay more than £86,000 over their lifetime, when previously many had to pay six figure sums. We have lifted the previous limit for financial support by more than 400 per cent, so that anyone with assets of under £100,000 will be eligible for help, and those with under £20,000 will pay nothing at all.
"We have designed a way to make the overall system fairer, so that those who fund themselves do not pay more than state-funded individuals for the equivalent standard of care. We have committed to providing our brilliant social care workforce with new training and qualification opportunities, so that they can progress and improve while providing an even greater standard of care".
The health stuff here is largely a string of half-truths or inheritances from past Governments: the social care stuff is evidently about inheritance protection.
The Conservative And Unionist Party will be suffering from Long Boris for many years to come.
The fictional forty new hospitals
A few columns back, I noted that former NHS England CE Lord Stevens' question about the fictional 40 new hospitals had not been answered within its time limit. Lord Kamall snuck his answer out just days before Parliament rose for recess: the noble Lord's reply being thus: "the Government has committed to build 40 new hospitals by 2030, in addition to eight previously announced schemes.
"The schemes are grouped into five cohorts for delivery by 2030, based on an assessment of readiness to progress and the extent to which schemes can realise the benefits of the national programme. This assessment is subject to continuous review and the timescales for individual schemes may change. A current list of schemes and cohorts is attached, due to the size of the data. This includes where schemes are in construction and indicative construction start timescales. There are eight schemes in cohort five, which refers to schemes yet to be confirmed and are currently subject to an ongoing selection process.
"At the Spending Review in 2020, the Government confirmed an initial £3.7 billion for the first four years of the programme. Funding from 2024/25 will be set out in further detail at future spending reviews. Specific timetables and funding allocations for individual schemes will be determined through the business case assurance process. In May 2022, the programme secured approval to progress the schemes in cohort two and the approach to delivering the programme was confirmed".
The attachment mentioned in this answer can be downloaded here. It's worth a read.
Cohort 1 – "schemes which are complete, under construction or in the final stages of approval" - numbers 8 'new hospitals'. Cohort 2 - "schemes commencing on site within 2022 to 2024" - numbers 10 'new hospitals'. Cohort 3 is my favourite - "schemes where individual start dates are to be confirmed in due course" - and numbers 8 'new hospitals'. Cohort 4 - "schemes to commence on site from 2025 onwards" - numbers 14 'new hospitals'.
True, it tallies to the fictional total of forty, with its heroic building plan of three new hospitals a year being started and completed 2025-30.
But Lord Stevens' question was specific - "to ask Her Majesty's Government what is the (1) planned construction start date, (2) expected construction completion date, and (3) budgeted cost, for each of the 40 new NHS hospitals they propose to build in England by 2030". These are uncomplicated inquiries - the basics, really.
Lord Kamall's response answers none of those obvious and specific questions.
I wonder why the Government does not know these basic things about its fictional forty new hospitals?
Covid resurgence and laissez-faire
The latest ONS Coronavirus infections survey data shows that the rise in infections in England is ongoing: the other home nations' growth status is unclear.
One person in 17 in England is estimated to have had Covid19 in the past week. Infection rates increased in: those in school year 7 to school year 11; 50 to 69 year-olds; and 70 year-olds and over. Covid19 hospital admission rates increased in those aged 15 to 84 years.
Ooops.
The joint editorial between British Medical Journal and Health Service Journal which neatly eviscerated the Government's near-psychotically laissez-faire attitudes to the resurgence of Covid19 provoked a predictable backlash in the highly health-credible, peer-reviewed Daily Mail.
(Yes, that is the same Daily Mail that is not accepted as a source of citation by Wikipedia because of its "reputation for poor fact checking, sensationalism, and flat-out fabrication".)
Monkeypox declared a global emergency
The WHO has declared close contact disease Monkeypox a global emergency.
Two important points follow from this:  a) the regulations are legally binding on all WHO member states, which includes the UK - so we are now de jure (i.e. as a matter of law) not just de facto in a new public health emergency in the UK;  and b) all WHO member states must have regard to the recommendations.
Have you heard from UK Health Security Agency boss Dr Jenny Harries about this yet? Nope: me neither. They've put out an update on UK cases, but that's it. Oh, and this statement from Dr Meera Chand, Director of Clinical and Emerging Infections at UKHSA: "while anyone can catch monkeypox, the majority of monkeypox cases in the UK continue to be in gay, bisexual and other men who have sex with men (MSM), with the infection being passed on mainly through close contact between people in interconnected sexual networks".
Not very proactive, given that the thing is a contagious infectious disease.
Financial balance
The NHS pay deal was announced, with the Government claiming to have accepted the Review Body recommendations in full. We'll see whether that claim stands up to professional bodies' detailed scrutiny, but the headline figures are:
Over 1 million NHS staff, including nurses, paramedics & midwives are to get a pay rise of at least £1,400.
Lowest earners to receive up to 9.3%.
Eligible dentists & doctors will receive a 4.5% pay rise.
The arrival of informed commentary didn't take long:
The FT's Jim Pickard noted that for most staff, this will be a significant real-terms pay cut due to inflation (CPI being 9.1% and RPI 11.7%).
Managers In Partnership set out the case against with decent clarity here:
A rare sensible Telegraph article set out some of the perverse incentives being created for senior NHS staff. It's also worth reading the below Institute for Fiscal Studies document on what public sector pay policy should be trying to achieve.
And when the FT headline is 'UK Government produces public sector pay offer that pleases no-one', it's probably time to expect widespread industrial action.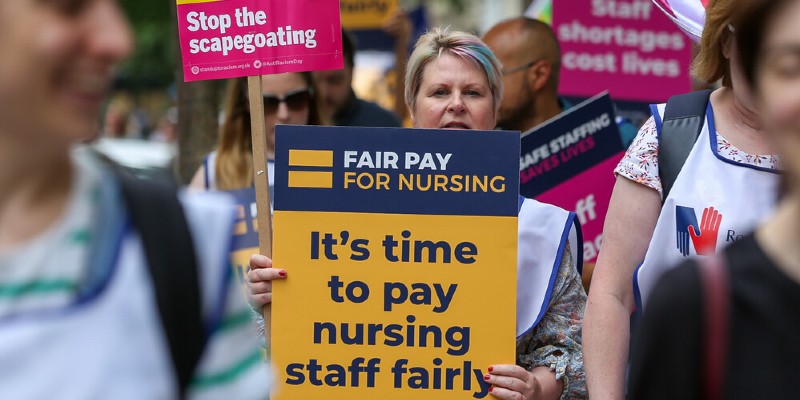 On the same afternoon as the pay award news, the Government released its proposed uplifts to the NHS pension scheme member contributions. The devil is always in the deep detail on these plans.
Alastair is (again) correct. The Department For Health But Social Care did it on The Saj's 'big NHS Speech'; they did it on the Messenger Review; did it on The Saj's review of "nonsense' NHS targets; and they just did it again on the new women's health strategy.
It's absolutely a pattern of behaviour. Whether the national media is blind or indifferent to this, the effect is the same: a scrutiny-free pass for the Government.
Were there any doubt that the FT piece I quoted last week was correct that the pay rise is not fully funded, Number 10 confirmed this to Lobby journalists after PMQs. Last autumn's Spending Review budgeted for rises up to 3%.
NHS England promptly stated that this shortfall will hit budgets planned for diagnostics, technology and innovation. The new PM will probably have herself an emergency Budget in the autumn, so this problem may not last too long. But it is another stand-off.
Cronyvirus and coronamillions update
Dame Jenny Harries of the UK Health Security Agency, which absorbed Test And Trace, has written to the Public Accounts Committee confirming that TAT's spending on management consultants during the pandemic exceeded £450 million.
TAT spent £145 million on management consultants in 2020-21. The provisional, pre-audit figures for the first half of 2021-22 are £201 million, and for the second half are 116 million.
Test And Trace, despite some valuable achievements (wastewater testing, free LFT supplies, etc), was ultimately judged to have "not achieved its main objective to help break chains of COVID-19 transmission and enable people to return towards a more normal way of life" by the PAC.
The Covid19 Inquiry issued its opening statement. And a Bloomberg article states that the Government is seeking to block legal disclosures to the Inquiry. Sigh.  
The Alan comeback
Proving that as radio naturals go, he's a perfectly poor-to-below-middling ex-Health Secretary, The People's Partridge had a three-hour slot on LBC on Tuesday, which he basically used as what Conservative political commentator Iain Dale called "a party political broadcast on behalf of Rishi Sunak", whose leadership bid Alan backs.
"It's true that Rishi is an incredibly smart man", Alan told the first caller who backed the pint-sized former Chancellor (after several callers who slated him). He also re-sized mini-Rishi as "head and shoulders above the others".
Dear Alan. He is adorable, as his tetchy strop-ette in the above link shows.
Thank you
This is the one-year anniversary of the creation of the subscription service for 'Cowper's Cut' here on Health Policy Insight.
I won't pretend that I wasn't anxious about the renewal (or not) of the annual subscriptions. I've been blown away to watch a 100% retention rate.
So I have the same message for annual as for weekly subscribers: thank you.
I appreciate your support: I could not produce 'Cut' without your willingness to pay for it.
Recommended and required reading
Anyone wanting a corrective to the Government's near-psychotically blasé approach to Covid19 should read Professor David Oliver's latest BMJ column about Long Covid's impact on his career and life: "the repeated failings on PPE provision, staff testing, confused policies and communications for clinicians, and suppression of staff's concerns are things I find hard to forgive ... without sufficient clinical and care staff, in sufficiently good health, and with sufficient support, energy, and morale, there will soon be no viable NHS or social care system".
The BMJ/HSJ joint editorial on the NHS dying of Covid, not living with it is another key read.
Tony Blair Institute report on restoring trust and resetting the 'living with Covid19' plan
Important FT data piece on the overlap between the NHS backlog numbers and the numbers of people out of the UK workforce with chronic sickness: could they be related?
Fascinating FT piece (yes, yes) on how the insurance industry (including health insurance) is pivtoing to prevention.
I missed the Health Foundation REAL Centre's report on GP workforce over the next decade: its findings are worrying.
New Scientist reports on a major new study which observes no causal link between depression and serotonin.
This FT piece covers the Competition and Markets Authority's reduced but upheld fines for the Pfizer/ Flynn anti-epilepsy drug pricing scandal.
Amazon has bought US healthcare provider 1Life Medical, which will add to the retail mega-giant's existing offering of virtual appointments and follow-up visits at home under its Amazon Care brand
It's not particularly health or social care, but Ipsos chief executive Ben Page's discussion of 'cognitive polyphasia' is quite excellent.