Cowper's Cut 197: A work meeting with cheese and wine, as Omicron storm clouds gather over London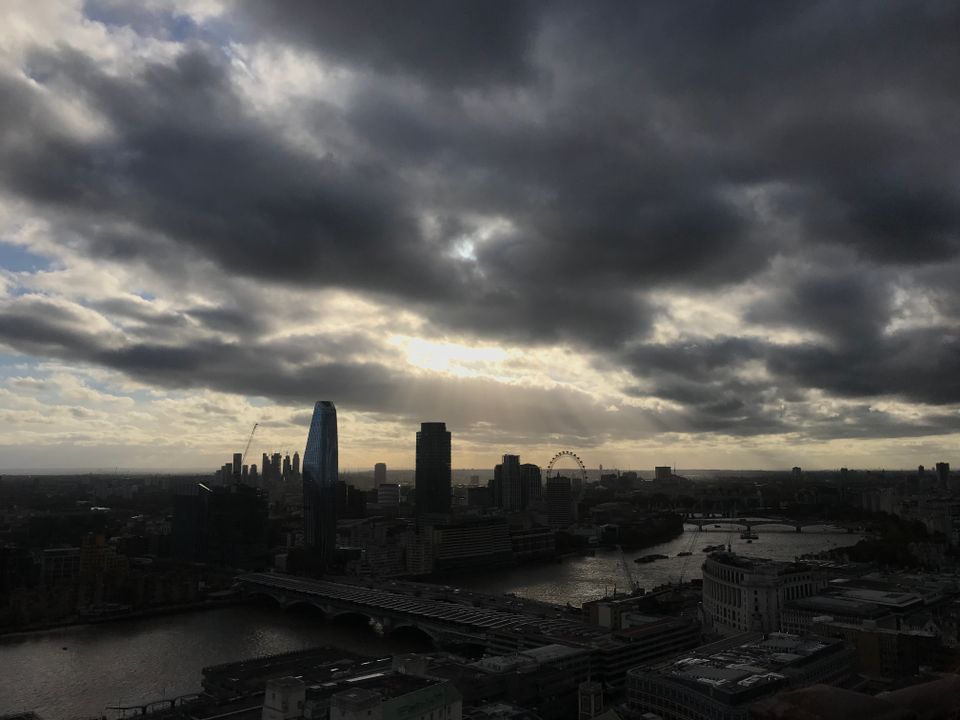 Collective responsibility and discipline have evidently collapsed in Government when somebody briefs a Cabinet meeting more or less wholesale to a national newspaper, as some Chatty Rat or another did to The Times this past week. (As if to prove that no good deed goes unpunished, The Chatty Rat's fans have been briefing against him to the Mail.)
It revealed that Commons leader Jacob Rees-Mogg was "understood to have criticised official modelling suggesting that without further action 3,000 Omicron patients a day could need a hospital bed. He asked if Johnson had read an article by Fraser Nelson, editor of The Spectator, questioning the assumptions behind the data".
Cabinet idiocy such as Rees-Mogg's has been enabled by repeated articles from the grifters of the right-wing media attacking modelling. (As I've previously noted, there is a concerted effort currently under way on the political right to push out anti-NHS pieces, none of which offer any coherent alternative.)
It is well worth taking a moment to read LSHTM epidemiologist and mathematician Adam Kucharski's reply to this line of attack. Paul Nuki, one of a few bright spots in the Telegraph, adds pertinent observations about the need to train ministers properly in understanding how to use modelling (citing recommendations that date from 2010). And CSO Sir Patrick Vallance offers this science-based corrective in The Times.
Meanwhile, PM Boris Johnson's claim that "we've vaccinated more people as a percentage of our population than virtually anywhere else" was promptly exposed to be untrue.
Cabernet meetings
When it comes to listening further to the PM on Covid19 issues, his claims that the now-famous Downing Street May 2020 cheese-and-wine terrace/garden photo shows "people at work, talking about work" were … interesting. Likewise the evolving 'lines to take' on the topic.
Not wanting to be left out of this fun, Foreign Secretary Dominic Raab told the BBC that "this wasn't a social occasion, it was staff having a drink after meetings". They have clearly given up on even nodding towards plausibility in their excuses.
Professor David Oliver's fine pair of pieces for Byline Times highlight the ridiculous nature of Conservative MPs and their media allies trying to undermine the role and integrity of the Chief Medical Officer as a pandemic heads towards a new peak; and neatly point out that there is no scaremongering about a Omicron wave of demand on hospitals – it is just Project Reality.
To top all this, the number of booster vaccine doses administered in high-income countries has passed the total number of jabs given out in poorer nations, according to the latest update from the Financial Times' vaccine tracker.
What could conceivably go wrong? (Um, another new variant, perhaps?)
How bad will the Omicron wave prove?
Multiple UK analyses suggest that Omicron may cause less severe hospitalising illness that Delta. As far as this goes, it's good news.
However, it's not unalloyedly so. It's vital to read LSHTM Professor Nick Davies' thoughts on the situation. Professor Davies points out that "the same principle that makes Omicron relatively less severe WITHIN each age/risk group—its better ability to infect those with pre-existing protection—will tend to shift the case mix, relative to Delta, AMONG the age/risk groups into those that have relatively better protection … for a lot of countries, including the UK, this means that the Omicron wave will tend to infect *relatively* more vulnerable older people than the Delta wave, which after all was really primarily in young people".
Davies adds that "if the fraction of highly-protected older people infected with Omicron is big enough relative to the very small fraction who got Delta, then in theory this could even increase the average IHR even though it is decreasing within each age group. The older and vulnerable age groups drive the majority of morbidity and mortality coming out of any model of SARS-CoV-2 transmission".
Statistician David Spiegelhalter highlighted Omicron's extraordinarily high transmissibility on BBC Radio 4's PM program on Wednesday: "they did find, though, that Omicron is 10 times the risk of reinfection compared to Delta, really making clear that past infections provide little protection against this. But they found that the booster seriously reduced the risk compared to two doses. In London, [hospitalisations] have gone up. It was 300 yesterday and that's a big jump from 200 two days before, after having been stable for about five days … It is going up in London definitely, just as we would expect because they've had an enormous surge in cases".
And the latest SAGE minutes state that the "intrinsic severity [of Omicron] would need to be greatly reduced (by c. 90%) for hospitalisations not reach levels of previous peaks unless wave peaks early for other reasons".
Mathematician, strategist and risk manager James Ward's observations on the trend in London hospital numbers is also a key read.
This is not sorted, by any means. London intensive care doctor Rupert Pearse's Christmas Eve Twitter update gives a measured snapshot.
The January infections boom is in the post
The infections that will result in early January hospitalisations are already in the post. Travel and socialising over the festive season are likely to cause more, which arrive late mid-to-late January.
And of course, schools go back in early January.
With daily infections now well over 100,000 (among those officially recorded, so certainly an under-estimate), it seems probable that we will see a continuing trend in rising admissions. As usual, ICU cases and deaths will lag that data.
Former Vaccines Taskforce chair Clive Dix suggested to the Telegraph that the UK's relatively lower rate of recent Covid19 fatalities may relate to the fast and wide use of the oft-maligned AstraZeneca vaccine offering better long-term cellular immune response, and thus protection against fatalities.
The small matter of a workforce crisis
The move to cut self-isolation to 7 days if LFTs prove negative on days 6 and 7 may help at the margins, but there is already a crisis in NHS staff off sick or self-isolating with Covid19, right now. The number of staff days lost to Covid across the NHS in England hit 124,855 last week: up 38% from 90,277 of the previous week.
As The Sunday Times' Shaun Lintern observes, across London, "NHS staff absences have skyrocketed with more than half of all the 14,500 absences on Friday linked to the virus either through sickness or isolation. For the Royal Free, Covid now accounts for 48 per cent of all absences across the trust. At Guy's and St Thomas' NHS Foundation Trust, 56 per cent of staff absences, or 772 staff, were due to the virus. At King's College Hospital Trust in south London, 65 per cent of absences were Covid-related on Christmas Eve".
A Royal College of Physicians survey of members found that "across the UK, more than 1 in 10 (10.5%) doctors are off work and 1 in 24 (4.2%) due to COVID. In London these figures increase to 1 in 7 (13.9%) off work and 1 in 13 (7.4%) due to COVID".
The Times also picks up on the workforce issues.
Ooops.
Big ooops.
The NHS is trying everything to empty acute beds to prepare for a surge of hospitalisations. However, some of the moves being made are, as HSJ's Matt Discombe reports, being seen as highly unhelpful at the coalface. Responses to ECIST workshops made it clear that  "more pushing of the guidance without the practical resources to implement it"; "requests for reporting, data and evidence at short notice"; and "more paperwork or forms" were among the things front-line clinicians "wouldn't find helpful right now".
Giving this feedback to NHS England - an organisation which thought in late October that shouting louder at trusts to "immediately stop all delays" to ambulance handovers would be effective - may not get the desired results, of course. As those ambulance handover delays have quite conspicuously not all immediately stopped: NHS England's latest 'sitrep' presents the national data for England.
A distraction of little Nightingales
In the absence of the expanded workforce to make them viable, it appears that the Nightingales are once again, "a bad idea whose time has come".
Health Service Journal's Jack Serle and Lawrence Dunhill report that NHS England "held a series of calls during which they asked local leaders to plan for a severe wave of admissions. This included being asked to identify hardstanding areas where temporary "field hospitals" could potentially be sited. These would effectively be large "tents" which could each hold around 100 patients, one source said.
"… (local) leaders were also asked to identify non-clinical space such as offices and meeting rooms which could be turned into temporary wards. Sources said government ministers had asked NHSE to assess potential capacity".
There are, of course, no extra staff to work these mini-Nightingales. On top of the staff absence thing. It's just going to stretch existing capacity even thinner if any among this distraction of mini-Nightingales get used.
NHS expected to be overwhelmed
This follows an internal document from NHS England London, dated 20 December and seen by HSJ, which said, "NHS services in London are again facing significant operational pressure as a result of the current surge in covid-19 cases from the new variant of concern, omicron.
"Through recent modelling, it is predicted that the London Ambulance Service, Emergency Departments and the General and Acute bed base are likely to become overwhelmed due to rising Covid demand in the next 2-3 weeks".
A confidence consequence?
New Ipsos MORI research given to The Guardian suggests that public confidence in the NHS has been hit. 26% of respondents to the survey were not confident the NHS would be there to give them they care they need if they got ill.
While only 15% of those surveyed thought the NHS was not coping well with treating coronavirus patients, 41% believed that it was not coping well with providing other services.
Happy Christmas: here's the Planning Guidance
With seamlessly gorgeous timing, NHS England issued the new Planning Guidance on the afternoon of Christmas Eve. It is brought to you by the word "ambition". Dave West of HSJ summarises the key points here.
Elective recovery plans will be set at 5% above the NHS's pre-Covid19 activity level, by having 3,000 more 'virtual ward/care at home' beds and 2,000 more physical NHS beds for delivery.
Also thrown out the door of Skipton House at the last minute were the consultations on the tariff and standard contract, as well as the model collaborative commissioning agreement.
Not wanting to be left out of the 'sneaking things out on Christmas Eve' action, the Department For Health But Social Care announced that the Health And Care Visa Scheme will be expanded … to a festively generous 12 months. Ho ho ho!
This move follows the Migration Advisory Committee recommendation to make care workers and home carers eligible for the Health and Care visa and add the occupation to the Shortage Occupation List; inclusion on which stipulates an annual salary minimum of £20,480 for carers to qualify for the Health And Care Visa.
For a care sector that is, as the Care Quality Commission noted, in dire financial trouble, this probably won't make much difference.
The Alan comeback
As Popbitch spotted, Brian Eno's daughter had a Matt Hancock-themed wedding cake. And that wasn't nearly the weirdest thing about The Minister For Hugs this year.
The People's Partridge's relentless pursuit of a political comeback has now attracted significant note in the national media. But will Alan triumph in his bid for a Cabernet – sorry - Cabinet return? As Bob Dylan so nearly wrote, "A-Ha!"'d Rain's Gonna Fall.
Alan can't even tell us if he's in the infamous Number 10 'meeting with cheese and wine' balcony/garden photo.
A new Chair
Telegraph deputy political editor Lucy Fisher has an exclusive report that Richard  Meddings, ex-chair of TSB and NED at the Treasury, is the choice for the next chair of NHS England, replacing Lord Prior of Brampton.
Six – sorry, forty - sorry, forty-eight new hospitals are go!
HSJ 's Nick Carding picked up an important volte-face by the Infrastructure and Projects Authority, which has altered its assessment of the feasibility of the Government's promised '40/48 new hospitals', following the appointments of Peter O'Dowd and Morag Stuart as programme director and chief programme officer respectively of the New Hospitals Programme. They must both be tremendously impressive people.
Streeting's silly statement
Labour's new shadow health lead Wes Streeting has put in some impressive Commons and media performances so far, so it was disappointing to see him running with the manager-bashing trope on Twitter.
He tweeted, "under the Conservatives, eye-watering sums of taxpayers' money are paid out to managers and consultants. That means less investment in the frontline staff who our NHS relies on".
Obviously, we can all see the schoolboy error Mr Streeting has made here. He has ended his sentance with a preposition: it is exactly the sort of thing up with which our wonderful world of health policy will not put.
In addition to that, the NHS is undoubtedly not manager-heavy or profligate – if anything, the NHS is under-managed, as SBU's Professor Becky Malby highlighted, and Professor Ian Kirkpatrick likewise.
Manchester medical director and academic Matt Makin pointed out that Streeting was "exposing how little about the NHS you really know. Hospitals with more managers achieve better clinical and financial performance, higher patient satisfaction and reduced infection rates than those with fewer managers".
It was also heartening to see clinicians weigh in on behalf of their manager colleagues' value.
More to the point, should Labour form a government any time soon, they will need people to run the system. It's depressing that Her Majesty's Opposition has become so de-skilled on health that its shadow lead would come out with this crap. Hopefully, he'll learn.
Cronyvirus and coronamillions update
The Good Law Project's letters before action regarding the Immensa testing failure suggest that the problems at the Swindon lab were known for almost a month before action was taken.
The Good Law Project also posted this update about the early stages of their court case regarding the appointments of Dido Harding to run Test And Trace and then her appointment of Mike Coupe .
The controversy over the fate of the Vaccines Manufacturing and Innovation Centre, which the Government intends to sell off, hit The Guardian on Boxing Day. As both Vaccines Taskforce ex-boss Kate Bingham and Professor Sir John Bell are arguing against it, you might think people would, you know, listen to them.
Other important things
Would appear here.
Recommended and required reading
The Nuffield Trust's sober and thorough piece on the implications and impacts of Brexit on the health sector is very good.
Kaleidescope's Richard Taunt has written this very helpful piece on the importance of boards in setting the culture and tone of organisations.
Procurement expert Rob Knott notes that Oracle have acquired Cerner for $28 billion (and the former's shares dropped 10% in value).
GP At Hand firm Babylon Holdings has seen its share prices drop by nearly 50% since its stock market flotation. Clearly, Ali Parsadoust's touch has not deserted him.
The FT reported that financial firm and management consultancy KPMG held itself accountable after a bollocking from the Cabinet Office following a series of  scandals connected to its audits, and is withdrawing from bidding for any more Government contracts. (This move is pending the results of a Cabinet Office review.)
Various health charities have dobbed NHS England in to The Guardian for incomplete promise-keeping about implementing new 'high health gain' drugs.