Cowper's Cut 276: Only Rishi Sunak's "really, really good plan" for "being a bit clever about how we do things" can save us now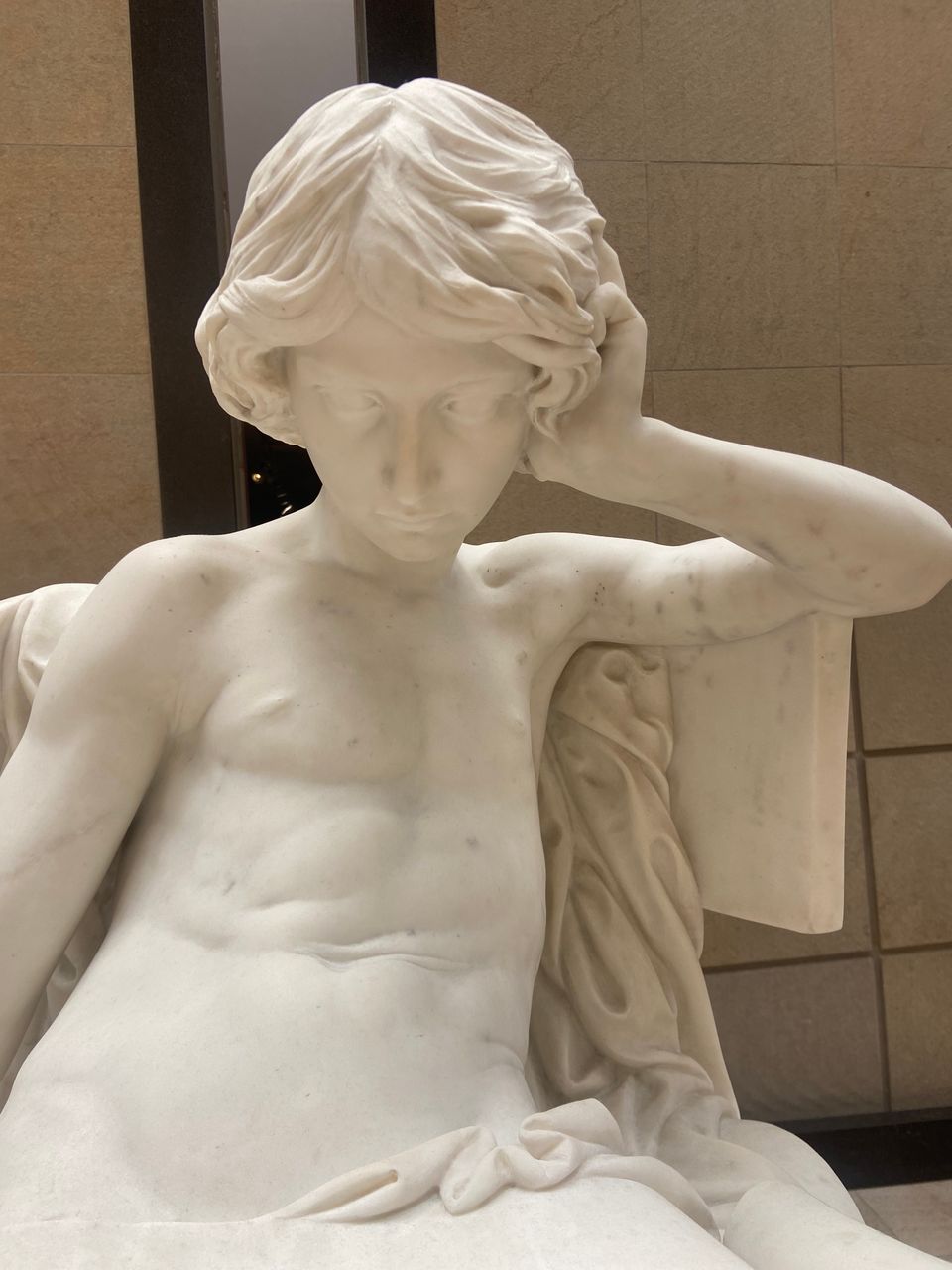 As he heads towards a crushing defeat at the next General Election, PM Rishi 'The Brand' Sunak is the least likely 'man of the people' imaginable. Even less likely than Boris Johnson: a man who, for all his myriad awfulnesses, at least never affected a glottal stop or estuary-speak.
Mr Sunak went full 'mate' in his 'PM Connect' PR appearance this week at an IKEA warehouse, where he was 'down with the workers' for questions.
Healthcare cropped up, you'll be surprised to hear. Asked about one man's family difficulties accessing the NHS with a six-month wait for an urgent need, the PM set the nation's minds at ease with the grace and style of an anvil in a 'knobbliest knees' contest.
He told the workers and accompanying media that he has "a really, really good plan ... (for ) being a bit clever about how we do things".
We're saved, then. Thank goodness it wasn't just a "really good plan". That wouldn't be reassuring at all. But maybe he could upgrade it to a "really, really, really, really good plan" (two reallys good, four reallys better, as George Orwell so nearly wrote).
One must have a heart of stone not to laugh.
Mr Sunak - Prime Minister of the UK and leader of the Conservative And Unionist Party - said this out loud, in the real world. There are no available excuses: Mr Sunak does not even drink alcohol.
The workforce plan
Byline Times's write-up of 'PM Connect' says that the Sunak plan "involved asking people to go to their local supermarket to get scans, rather than to their GP". That'll increase the number of radiologists nicely (let alone grow the capacity to treat those who get diagnosed early), then.
One presumes that the PM was also alluding to the mythical workforce plan, which seems set to become the 75th 'birthday' present for the NHS from our dear chums the Treasury Munchkins.
The briefings and slide deck currently in circulation suggest that this "really, really good plan" will major on workforce substitution, with much of the heavy lifting being plotted via the whole 'working to the top of licence/new roles/physician's assistant' thing.
This sounds superficially cost-effective. Is it clinically effective? Will it improve the working lives and release the time of those very senior clinicians who are currently retiring in droves?
And by no means least, will it inflame the ongoing industrial dispute?
If so, it's probably nothing as to this Times story, indicating that Mr Sunak plans to block the 6% recommendations of the hallowed independent public sector pay review bodies.
Because of course it's been public sector pay rises that drove our current inflation boom (and not monetary policy, compounded by Brexit).
Sunak on Sunday
Appearing on Conservative And Unionist Party media stenographer-in-chief Laura Kuenssberg's Sunday morning BBC1 show, Mr Sunak promised that we are indeed getting the new plan this week.
Lucky us!
This was reinforced by his nonsense op-ed in the Sunday Times, in which the PM made more factually wrong assertions in 800 words than you'd think imaginable.
Particularly heroic was the mendacity of his claim that "we got through the surge of flu and other winter pressures". No. No, we didn't. That is an obvious, straightforward and vast lie, as this week's NAO report makes fully clear. Maybe the Sunday Times has given up on reality.
In this ST piece, Rishi Sunak claimed that "waiting lists are coming down". Reality tells us that waiting lists are going up, hitting an all-time high. The median wait is also increasing, so not only are more people waiting, but more people are waiting for longer.
The PM was therefore clearly lying when he told The Kuenssberg Show that "the overall waiting list itself is not expected to start coming down until next year, but that doesn't take away from the fact that right now, the NHS, as a result of our investment and the plans that we put in place, is treating more people than it has ever done. And so it just will take us a little bit of time to work through the backlog built up during Covid".
Either "waiting lists are coming down" (the PM's ST fantasy), or they are "not expected to start coming down until next year" (the PM's LK Show statement). Both are not simultaneously true. This is really quite basic stuff.

The Government's (and its wholly-owned subsidiary NHS England's) attempts to recruit their way out of a retention crisis have not worked so far, and may well continue not to work. Your most experienced staff are your most valuable staff.
The PM's ST nonsense also asserted that "advances such as artificial intelligence can lend a helping hand to medical staff. And new innovations such as virtual wards have the potential not only to achieve better results for patients, but to reduce the cost to taxpayers".
Oh dear.
OK. Let's take these in turn.
AI (or to give it a meaningful name, pattern recognition software) may prove a useful tool if departments are adequately resourced and trained to incorporate it into workflows and processes - but that won't happen by itself. Clever tech is not self-executive (and it's usually expensive).
Virtual wards: have we seen any evaluations yet?
It looks very much as if the NHS Fictional Long-Term Workforce Plan will not make things better.
BMA junior doctors to hold five-day strike in July
The BMA junior doctors' leadership announced that they will hold a five-day strike from 13 to 18 July: it's over a weekend, so enough time for a nice city break in the sun somewhere pleasant.
Support for this action remains anecdotally solid, and this week we'll get the announcement of the consultants' vote (as stated previously, my guess is about a 60% vote in favour of taking IA).
As I've written before, the Government see their pre-GE tax cut fly out the window if they do settle, and see NHS waiting lists continue to soar if they don't. Realistically, they have only got August - 'silly season' - to U-turn on pay without too many of their media stenographers noticing; otherwise, they're into what looks sure to be another grim winter.
You reap what you sow, and this looks likely to be one for the Grim Reaper.
The People's Steve will have something to say about this ...
The Banker in committee
Secretary Of State For The Next Eighteen Months Steve 'The Banker' Barclay appeared before the Commons Health Select Comittee on Tuesday.
What an agenda! The 40 New (If Fictional) Hospitals. New-found enthusiasm for AI and The Cloud. Why handling an industrial dispute over pay is making all-time-high NHS waiting lists even longer. It couldn't happen to a slightly duller man. Pure box office.
The Banker told the Committee that junior doctors have "refused to move at all" on demand for 35% pay increase, and were demanding a 49% pay rise if the not-currently-being-negotiated deal were extended to 2024/25. He blamed the junior doctors' leaders for breaking off talks on pay (which they did not).
Barclay also refused to commit to a date for what is now officially titled the "Really, Really Good .... Being A Bit Clever" NHS workforce plan, highlighting that Chancellor Jeremy Hunt made a commitment in autumn statement that it will be this year: "There's a strong desire to get the document published, but it's right we take our time".
The Covid19 Inquiry
The Inquiry continued its work this week. A write-up of former PM David Cameron's evidence is here.
One of former CMO Sally Davies and former Chancellor George Osborne's evidence is here. Of these, Osborne's evidence has the greatest political interest: last week Sir Michael Marmot told the inquiry that the UK had entered the pandemic with "depleted" public services.
Asked by inquiry lawyer Kate Blackwell KC if he agreed with the statement, Mr Osborne said: "most certainly not, I completely reject that."
Mmmmmmmmmmm.
It's also worth taking your time to read the well-evidenced and fair-minded Leonora Merry and Sally Gainsbury Nuffield Trust piece on austerity's toll on the NHS pre-pandemic.
Tl,dr - Gideon George Osborne was talking bullshit.
A summary of Jeremy Hunt's evidence is here.
Yet none of these people was the clear star of the sessions so far.
Boris Johnson Fanzine global health editor Paul Nuki poured out a whole stream of  righteous truth about Department For Health But Social Care permanent secretary Sir Chris Wormald's evidence in this excoriating Twitter thread.
As Paul says, "DHSC's entire strategy was up the swanny. They knew a CoV could be been huge - it was in the risk assessment - but they only had a pandemic plan for flu. And this despite knowing the features of any new pathogen could not be known in advance".
NHS England award Palantir contract (not the FDP one ... yet)
HSJ's James Illman spotted that NHS England awarded Palantir a new £25 million deal to 'transition' its NHS projects to the new federated data platform (the contract award for which is ongoing). My usual COI caveat here: I am a paid member of Palantir's health advisory panel.
There was no open tender for this deal (and given that Palantir's tech is clearly proprietory, it seems impossible that there could have been).
Meanwhile, The Register reports that "information from family doctors is set to be uploaded to the controversial Federated Data Platform (FDP), a set of technologies under a £480 million procurement for which US spy-tech company Palantir is the incumbent supplier.
"Speaking in the House of Lords, the UK's upper chamber, Lord Markham said the FDP deal winner would not be able to access medical records of individuals on the system.
"The data controller will remain in place for each individual institution; sometimes it is the GP and sometimes it is the hospital. Fundamentally, everyone's data will be allowed to be used only by the NHS in these circumstances. There are no circumstances in which Palantir – or any other supplier should it win – will have access to see individuals' data," the Parliamentary Under Secretary of State at the Department of Health and Social Care told Parliament.
Privatising Babylon
Tech-finance publication Sifted reports that GP At Hand provider Babylon agreed a deal to take the company private again: under its terms, existing shareholders will lose hundreds of millions of dollars.
With Aloytious Parsadoust in charge? Shareholder wipeout?
Well I never.
Sifted writes that Babylon "announced plans to form a new entity with Swiss digital therapeutics unicorn MindMaze. MindMaze will inject new funds into the business and pay off some of its debt. The transaction is expected to be completed in July.
"The deal follows a torrid 18 months on the New York Stock Exchange that's seen the British company's share price drop more than 99%."
The good news is that Aloytius' shareholding is also toast: the hilarious news is that he's being kept on to run the Babylon bit.
EveryGrifter: the demarcation era
Someone smart in Labour has launched a fundraising merch sale of 'NHS 75 anniversary' promotional tat.
This will piss merch-vending privatisation scaremongering buffoons EveryGrifter off magnificently!
Strategy at 67 Pall Mall
It was lovely to bump into NHS England director of *coughs* strategy Chris Hopson and his successor as NHS Providers chief executive Julian Hartley having a good chat at 67 Pall Mall this week.
They'll have been discussing strategy, no doubt.
Recommended and required reading
The Health Foundation's new report finds that 800,000 (12%) fewer patients in England were admitted to hospital in 2022 than in 2019, while at the same time the average length of stay increased. These trends (a reversal of those seen in the decades prior to the pandemic) underline the intense strain on the NHS and raise questions about whether it can meet ambitious recovery targets.
Intelligent FT piece on how former PM Tony Blair's Institute may have a big impact on the Starmer Government.
Boris Johnson Fanzine interview with Professor Sir Mike Richards.
My latest Pulse column is online.